Sabbath Message — Islam: Past, Present, and Future
Shabbat Shalom Fellow Believers,
Praise Yahuah for His compassions fail not, for they are renewed every morning (Lam. 3:23). For our Messiah came into this world to seek and to save that which was lost (Luke 19:10). And this includes all humanity, for all have sinned and come short of the favor of Alahim (Romans 3:23). YET . . .
"Not everyone who says to Me, 'Yahuah, Yahuah,' shall enter the kingdom of the shamayim, but he who does the will of My Father in the shamayim. Many will say to Me in that day, 'Yahuah, Yahuah, have we not prophesied in Your name, cast out demons in Your name, and done many wonders in Your name?' And then I will declare to them, 'I never knew you; depart from Me, you who practice lawlessness!' "Therefore whoever hears these sayings of Mine, and does them, I will liken him to a wise man who built his house on the rock: and the rain descended, the floods came, and the winds blew and beat on that house; and it did not fall, for it was founded on the rock. "But everyone who hears these sayings of Mine, and does not do them, will be like a foolish man who built his house on the sand: and the rain descended, the floods came, and the winds blew and beat on that house; and it fell. And great was its fall." Matthew 7:21-27
I would like to suggest that while many of us have experienced trials in our lives and continue to team up with Yahuah and the Good News to declare that indeed the Messiah has come . . . we have not seen anything yet as to the likes of Islam. In His own words and that of the prophet Isaiah the Messiah said of Himself, and this includes witnessing to Muslims:
"THE SPIRIT OF YAHUAH IS UPON ME, BECAUSE HE HAS ANOINTED ME TO PREACH THE GOSPEL TO THE POOR; HE HAS SENT ME TO HEAL THE BROKENHEARTED, TO PROCLAIM LIBERTY TO THE CAPTIVES AND RECOVERY OF SIGHT TO THE BLIND, TO SET AT LIBERTY THOSE WHO ARE OPPRESSED; TO PROCLAIM THE ACCEPTABLE YEAR OF YAHUAH." Luke 4:18-19 and Isaiah 61:1
While these verses were first written by Isaiah and read aloud in the synagogue by our Messiah as to His purpose on earth . . . all of us who proclaim to be His righteous obedient followers must come to terms with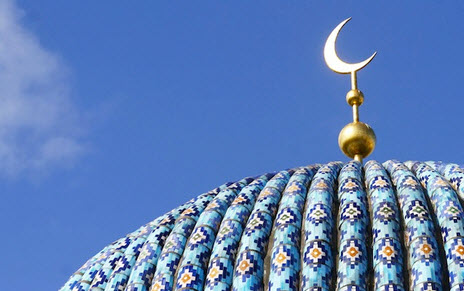 this being our creed and purpose upon the earth as well, to reach all including the Muslims even in the face of death. It appears that things on earth are heating up to the place that our beliefs will become a life and death issue on multiple fronts for which Yahuah's righteous will:
Proclaim the Good News of Yahusha the Messiah who left His esteemed position at the right hand of the Eternal Father to become a man, that He may lay down His life to save all mankind from eternal death.
Proclaim the true sacred names of the Eternal Father and Son as Yahuah and Yahusha in contrast to

(Lord God and Jesus Christ).

Restore to the knowledge of mankind the Creator's Calendar year that commences in spring on the night of the full moon that is nearest the feet of the constellation Bethula (Virgo) (Revelation 12:1).
Restore our Creator's astro-lunar-solar months that demarcate unique units of time (called days or dates) from one full New Moon to another (Isaiah 66:23).
Restore our Creator's weeks and sacred lunar Sabbaths that refresh their cycle following each full New Moon (Ezekiel 46:1-3).
Within the framework of the Creator's true Calendar, only then can we restore His Torah and qodesh Feast Days.
Thus, I believe it is important to become familiar with the basic tenants of Islam, their history, past and present, as well as their future agenda. And YES, I believe this is one of Satan's major schemes to bring utter chaos to this earth in these end times through Islam. 
In the Quran, it states –
"Let the people of the gospel (book) judge by what Alah has revealed therein. If any do fail to judge by the light of what Alah has revealed therein they are no better than those who rebel." Maidah 5:47
It is common knowledge among Muslims that the reference to "the people of the gospel (book)" is a reference to Scripture followers (most often referred to as Christians). What this identifies is that Scripture is the standard by which to judge the Quran. This is the paradox of Islam known as the Islamic Dilemma as it relates to Scriptural themes.  For Example:
• If Scripture is TRUE, Muhammad is a false prophet because His book, the Quran, is in conflict with Scripture on many levels.

• If Scripture is FALSE, Muhammad is a false prophet because in His book, the Quran, he teaches his followers to use Scripture as the standard.
So Islam and its Muslim adherents are caught between a rock and a hard place on this issue.
Did you know that the Quran is the only historical document that teaches Jesus Christ (Yahusha the Messiah) did not actually die on a cross/stake, but was replaced by Judas? They have no support for this view or eye witnesses, as Muhammad lived over 500 years later. Yet, by promoting this belief that our Messiah never died on the cross/stake they could completely avoid the issue of a resurrection from the dead.
Identified in the first video link is how Allah only blesses those who honor him, yet the contrast is made that "the Eternal Father YAHUAH Elohim/Alahim demonstrates His own love toward us, in that while we were still sinners, Yahusha died for us" (Romans 5:8). 
Hear for yourself that although Muslims believe Jesus Christ was a prophet, Allah supersedes him in importance.  In fact, Islam teaches that anyone who declares Jesus Christ is "God" the Eternal, commits the unpardonable sin, and will go straight to hell.
Bottom line we must embrace the TRUTH of our Messiah with a full throttle to equip ourselves to dialog with Muslims, for the purpose of seeking and saving that which is lost.
[Disclaimer: Below are an assortment of videos on Islam from differing "Christian" perspectives along with three testimonies of Muslims becoming Christians. Imagine what would happen if these Muslims and others learned the real truth as outlined in the six points above. 

Although Christianity is hopelessly flawed, the pivotal point upon which Muslim lives are changing appears to be on the central theme that there is a true and loving Eternal Father (Yahuah) who sent His only Son (Yahusha) to lay down His life for mankind. And that by His sacrificial atonement all who accept Him as their substitute for sin and seek a growing relationship with Him will be restored to their Eternal Father.  This is the central theme for which we hold in common.

I have not found as of yet a single You Tube link reaching Muslims for Yahusha the Messiah. 

In the links below All of the references to our Messiah and the Eternal Father are from the Christian perspective utilizing the terms Jesus Christ and the Lord God, also Sunday worship, Christmas, and Easter. Additionally, they recognize the crescent lunar phase as the true New Moon.

If this will be offensive to you I suggest you not watch them. However, I continue to believe we can learn much by taking what is good and leaving the rest. The focus is about accepting the sacrificial gift of the Messiah for sin and releasing the grip Islam had on these folks.  Again, imagine what the outcome would be if given the real truth.


Although not perfect, these links are based on the central theme we hold in common with Christians. Thus, I continue to find joy in revisiting the conflict/resolution of being LOST AND FOUND, on this central theme.]

Unpacking Islam
https://www.youtube.com/watch?v=Sxcj0PG9qNA

Why Muslim Dr. Nabeel Qureshi Converted to Christianity
https://www.youtube.com/watch?v=H3lHueRXvh0

Sunni Muslim became a Christian Pastor – Testimony
https://www.youtube.com/watch?v=_LZvaMH4AgM

Rifqa Bary: A Girl who left Islam
https://www.youtube.com/watch?v=TfrVcVRZyJg

Ravi Zacharias – ISLAM 
https://www.youtube.com/watch?v=cKJVHb_sw_M

THE ISIS CRISIS
https://www.youtube.com/watch?v=SZHoptbNBeI

My little children, let us not love in word, neither in tongue; but in deed and in truth. And hereby we know that we are of the truth, and shall assure our hearts before Him. 1 John 3:18, 19
SONG: If My People
https://www.youtube.com/watch?v=Zi4oROVg1zk
If My people who are called by My name will humble themselves, and pray and seek My face, and turn from their wicked ways, then I will hear from the shamayim, and will forgive their sin and heal their land. 2 Chronicles 7:14

Kerrie French
TheCreatorsCalendar.com