Sabbath Message – The Shalom of the Lion and the Lamb
The Shalom of the Lion and the Lamb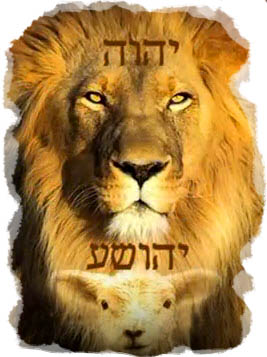 The wolf and the lamb will feed together,
and the lion will eat straw like the ox.  Isaiah 65:25
A lion and a lamb living peacefully together? On earth?  It sounds impossible.  But it really did happen.
The place was a zoo in Osaka, Japan.  A lioness gave birth to a cub, but as sometimes happens to animals in captivity, the mother rejected her baby.  Afraid for the cub's life, the zoo keepers decided to remove it from the cage and care for the little orphan themselves.
Lions are known to be great meat eaters.  But for some reason the zoo workers fed the little cub lots of milk and vegetables and very little meat.  The cub accepted the strange diet and grew quickly.
The lion soon became a favorite of both the zoo staff and the children who visited the zoo.  Some of the staff even taught him to walk on a leash and obey certain commands.
The director, realizing that the lion was unusually gentle for a wild animal, decided to see just how gentile he was.  So one day he opened up the lion's cage and set a goat inside.
As everyone watched, the big cat looked at the intruder, sniffed it, and then lay down for a nap.
A few days later the zoo keepers brought a lamb and put it in the cage with the lion and the goat.  The lion checked out his new roommate and then walked away. 
Not only did the three animals live together in peace, but they became good friends, eating, sleeping and playing together. 
Peace (shalom), manifest in this way is not plentiful here on earth, but our Messiah came that we may be restored, and live with Him and His Father in PEACE FOREVER in the NEW YAHUSHALOM.  HalleluYAH!  ~ by Renee Coffee
---
Just a head's up that a new article has been posted, Our Messiah's True Prophetic Birthday.
2017-2018 Calendars are forthcoming.
Here is a look at who's becoming interested in the full New Moon and lunar Sabbath, as well as many related subjects.  Keep these folks in your prayers that Yahuah will finish what He has started in them.
And the very Elohim of peace (shalom) sanctify you wholly; and your whole ruach and soul and body be preserved blameless unto the coming of our Master Yahusha the Messiah.  1 Tas'loniqim (Thessalonians) 5:23

Kerrie French