How We Became Full Moon Lunar Sabbatarians
We endeavor to obey Truth according to the Bible, no matter what it is, no matter where it leads us, and no matter what it costs us. And we are so thankful to have learned about the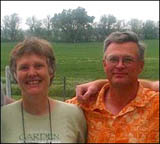 Lunar-Solar calendar, so that we can keep our Creator's seventh-day Sabbath and Feast days as set by the full moon new moon! 
Both of us were raised in smaller, rural United Methodist churches. Chris began seeking to know more of Yahuah's truths in 2000, and shortly thereafter, joined a Seventh-Day Adventist Church. Carla began seeking Yahuah's truths in 2002, and was also led to join a SDA church. We met and were married in 2008, through Yah's guidance and blessing. Having learned many truths through the SDA church, but knowing there were many more truths in the Bible than are taught in the structured church, we continued to seek Truth according to the Bible, and soon left the SDA denomination and started a home church.
We had not even heard about the Lunar-Solar Calendar until a friend brought it to our attention early in 2012. After diligent Bible study, it was evident that all of Yah's people throughout the Bible worshipped according to the Lunar-Solar Calendar. Following Truth, we began to keep Yah's calendar on the first of Abib. According to the best of our knowledge at that time, we kept the seventh day Sabbath and the Feast days as set by the first visible crescent new moon. But while searching on the internet on the Gregorian New Year's Day 2013, we found The Creator's Calendar website. After reading through some of the articles and word studies here, we could see that according to the Bible, the Full Moon was the correct New Moon; so that very week we changed, and began to follow the new truth we had found. What a blessing to know this awesome truth!
We continue to seek the restoration of all of His prophetic Truth as given in Scripture. The PURSUIT of His truth IS the plan of salvation. The PURSUIT of His truth IS running the race, fighting the fight, enduring to the end. This is having eyes that want to see and ears that want to hear, and hearts that want to know. By studying line upon line and precept upon precept, the Commandments of Yahuah and the Testimony of Yahushua can be restored on earth generally and in us, specifically. This is the rest and refreshing that the Lunar-Solar Sabbath as set by the full moon New Moon, symbolizes.
Chris & Carla from Kansas